National Apprenticeship Week: from banking apprentice to bank manager
Emma Finamore
Last updated 26 Sep 2018
"I've gained a massive amount from my apprenticeship
– it's one of the best things I've ever done. I'm now the Branch Manager!"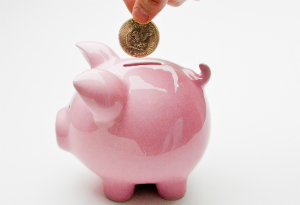 When you think of apprenticeships, you might still imagine training in construction, beauty therapy or plumbing. But, while these are all great jobs, the range of apprenticeships out there is now far wider: digital media, journalism, community arts, finance and engineering are all careers offering apprenticeships.
We've spoken to people at Lloyds Banking Group about the banking apprenticeships they did and what jobs they do now, to show you what's on offer if you want to make big bucks in the banking world. Our first interviewee started out as an apprentice and is now Bank Manager!
Tom Champion – Community Bank Apprentice
I confess I really had no idea what I wanted to do when
I left school – but I did know I'd had enough of full time education and needed to get a job. As my family had always had a sensible approach to money and instilled in me the importance of financial security, when a job opportunity came up with my local Lloyds Bank, I took it!
I started as a Customer Service Assistant and got experience of talking to customers, and of building relationships with them. As my confidence developed I was promoted to Personal Banking Advisor which meant increasing my product knowledge.
I came across the Lloyds Apprenticeship Programme and immediately put myself forward to do an Advanced (Level 3) Apprenticeship in Providing Financial Services. Around this time the Local Director realised that I needed to be stretched more, and moved me to a bigger, busier branch. This faith
in me was a great confidence boost too.
In three years I ended up working in three different branches, each one developing my confidence and increasing my experience. For my fourth I had to move away from family and friends, take out a mortgage and buy a house. I lived in a Travel Lodge for three weeks while this was happening, but within three months I was promoted to Senior Banking Advisor, so it was definitely worthwhile. I'm now the Branch Manager!
I made sure I'd finished my apprenticeship before I made this move, and I gained so much from the programme. It helped me develop my regulatory knowledge, improve my planning and time management but on another level it broadened my understanding of the whole economic and regulatory context in which we operate.
I've gained a massive amount from my apprenticeship
– it's one of the best things I've ever done. The fact
you've achieved it will always reflect positively on you. It lets people know you want to progress and there's lots
of support available if you do: I have a mentor within Lloyds Banking Group and one outside.
Isaac Jones – Commercial Banking Apprentice
I joined Lloyds Banking Group as an Apprentice completed my Advanced (Level 3) Programme in Providing Financial Services in April 2014.
The apprenticeship really did make me standout – it helped with my training and gave me great networking opportunities with people from all around the Group, as well as the chance to travel to most of our regional locations.
Personally, the experience has helped me mature and has taught me a number of life and interpersonal skills. Since completing the programme I've moved to a new position in London. It's been a challenge, but the apprenticeship has given me confidence to believe that I can achieve things that I may not have thought I was capable of.
I've also become an Ambassador for the apprenticeship programme, visiting schools and sixth forms to tell them about my experience.
I now work as an Associate Relationship Manager
in Mid-Markets, working for Commercial Banking in central London. Along with my Relationship Director I serve a portfolio of 20 + clients from the Government sector, including Borough Councils, government agencies and regulators.
If you're thinking about becoming an apprentice,
I would say: do it! It's a great chance for you to
take ownership of your development and career.
 My advice is to take full advantage of the fact you are an apprentice – identify any opportunities available to you, then take them and work hard!
Daljinder Sandhu – Financial Services Apprentice
I left college and started work in Telephone Banking as 
a Customer Advisor. After a while I decided to go full-time and with this came the opportunity to do an apprenticeship, so I took it!
I started my Intermediate (Level 2) Apprentice in Providing Financial Services and the programme made a real difference to me. When I started, I wasn't too sure of my actual goal but I knew I wanted to progress and to continue to develop my skills.
Regular catch-ups with my Trainer Assessor allowed me to look at my strengths and areas for improvement so I could look
at the next step in my development. You do need to take ownership of your programme – as it's ultimately down to you to do the work and to keep on top of your learning plan, but everyone is really supportive, and your Trainer Assessor is there to provide support if you need it.
As well as looking good on my CV and receiving a nationally recognised qualification, being an Apprentice has opened more opportunities for me. I feel I've
really developed myself in a range of ways and it has definitely improved my confidence.
I worked hard and finished the qualification ahead of schedule, gaining the opportunity to take a secondment in a different department before my expected completion date. Since then, I've moved into another role on a different site in Leeds. Clear proof that the skills you learn on the programme are genuinely transferrable.
In this new role I'm an MI & Planning Analyst in the PPI Operations team. It was a big step up from my previous role, and it's really hectic. I'm creating reports, monitoring SLAs, working with Operations to improve performance and always trying to put the customer first.
My advice to anyone considering an apprenticeship
 is: just do it. I'm still unsure of my ultimate career destination but the programme and the opportunities it's given me have opened up lots of possibilities. I feel in control of my development, my learning and my career and I'd like to think that my progression to date really reflects this.
News