Interview with an Amazing School Leaver: Liz Bingham OBE
Liz Bingham, a school leaver who is now Managing Partner of People & Talent at EY, received an OBE today for Services to Equality in the Workplace. She campaigns for diversity, inclusiveness, non-graduates, women, flexible workers and gay people. We sat down with this remarkable woman to hear how side stepping university shaped her career, and to get some valuable advice.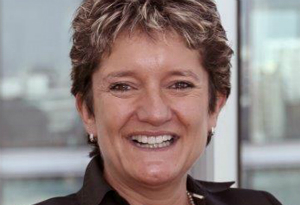 First of all, congratulations! How does it feel to be awarded an OBE?
I'm going to the Palace tomorrow for the ceremony: I'm feeling nervous and excited, but I've been absolutely over the moon since the New Year's honours list was published – it's an amazing feeling.
I think given my pretty ordinary working class background, with a state education - not a background with the privilege you associate with the British establishment - that adds an extra sense of pride to the achievement.
How did beginning your career straight after school shape your career path?
I felt more inclined to take risks than my peers who were graduates, probably because I felt I had less to lose, and that desire to take risks, to stretch and challenge myself meant that I learned really quickly. Through that I was able to quickly build a network of people who supported me throughout my career, I think that was the biggest difference for me.
What advice do you have for people approaching school-leaving age considering a career in your industry?
Don't assume that university is the only route into the professional services. I think it's easy to assume that the upper echelons of firms like EY only accept graduates, and only from certain universities, but that isn't the case at all.
Some of the apprenticeship and school leaver programmes, including ours, are really well developed and offer a fantastic alternative to university. You get three years experience in the workplace under your belt, plus a qualification, by the same time all your friends are only just graduating from university and looking around for their first jobs.
Really take the time to explore what the options are – many firms offer a variety of routes into the profession.
If you could, what advice would you give yourself coming up to school leaving age?
Don't think that every decision you make is a decision for life: think of your career not as a "career ladder" but as a "career climbing wall" – stopping and starting, moving side to side as well as up. Some of the hand and foot grips are harder to grasp than others, sometimes you'll have to scurry sideways, and that doesn't matter.
It's fine not to have a 20-year trajectory on your ambition. Just be as good as you can be in whatever you've chosen to do at the time, because it all counts.
Also, one of the questions I used to dread was: "Which university did you go to?" – it was always an assumption that you were a graduate. I think just be proud of the decisions you made, don't be fearful of that question, and find your own language in which to answer it. Just be proud!
News