Guest blog: David Cameron's apprenticeships adviser
Emma Finamore
Last updated 14 May 2016
Nadhim Zahawi MP, the prime minister's apprenticeships adviser, tells us about the government's new Get In Go Far campaign.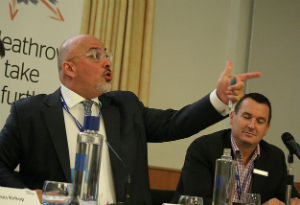 The launch of the government's new Get In Go Far advertising campaign for apprenticeships is a very welcome initiative, for both professional and personal reasons.
Growing the numbers of apprenticeships in this country is an issue close to my heart. I remember when hiring staff in my own business, the most important thing I looked for on a CV was experience, not just paper qualifications. Being able to see the knowledge and expertise a young person has gained from learning on the job can really help a business find the right candidate for the role.
It's why I was honoured to be appointed the apprenticeship adviser for David Cameron as well as co-chair of the Apprenticeship Delivery Board last year. The Get In Go Far campaign will be key to helping raise awareness of the value of apprenticeships; inspire more young people to consider it as a valid, credible route to getting a great career, and encourage more businesses to hire apprentices.
It also supports the government's commitment to create three million apprenticeship starts by 2020, including a 20% increase in the total number of apprentices from Black, Asian, and minority ethnic (BAME) backgrounds, and a 20% increase in degree level apprenticeships. We want to ensure young people get the skills they need and those that employers are looking for.
Apprenticeships are boosting the skills capabilities of individuals in every industry, from nuclear to finance; manufacturing to construction. Through apprenticeships, employers can grow their own talent, and ensure the next generation of professionals have the skills and experience our economy needs.
Apprenticeships offer real progression, industry experience and transferable skills – as shown by one in five companies in England having a former apprentice at board level. Our focus is now on boosting higher and degree apprenticeships, to expand pathways to ever-higher skills.
Don't get left behind! Apprenticeships will help businesses to grow, prosper and compete, while giving individuals a chance to develop a career in their chosen profession. There has never been a better time to get involved.
Find out more by visiting www.getingofar.gov.uk, or join the #GetInGoFar conversation on Twitter by following @bisgovuk and @apprenticeships.
News