'Generation selfie' weirdly shy about self-promotion
Emma Finamore
24 Nov 2015
The UK's young people are intimidated by the idea of writing CVs, apparently.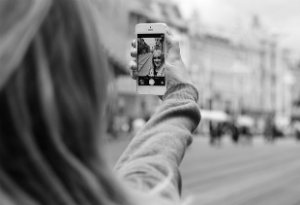 New research has revealed young people in Britain are surprisingly shy about promoting their professional achievements, despite being known as 'Generation Selfie'.
The researching found over half of young Brits are too shy about their achievements to write or update a CV.
They post to social media on average more than eight times a day, mostly with pictures of holidays, nights out and hobbies, as well as 'selfies', but they're much less confident when it came to promoting themselves professionally.
Nearly half admit to being self-conscious when it comes to promoting themselves for job prospects.
Sadly, 37% don't think they have any skills or achievements relevant to the workplace.
A whopping 40% of the 14-25 year olds surveyed have never written a CV. 60% are intimidated by the prospect of writing a CV, with over half (55%) saying they feel so shy they avoid working on it altogether.
The research by LifeSkills created by Barclays defined "younger generation" as those aged 14-25 years old and polled 1,000 nationally representative people.
The most common reasons young people feel intimidated by CVs include: feeling embarrassed talking themselves up; not wanting to sound boastful; and worrying about exaggerating their abilities.
In addition to feeling self-conscious, the findings reveal that this generation lacks confidence in promoting their skills set professionally.
Nearly half (46%) admit they don't know how to translate skills and achievements into appropriate language for employers and nearly two fifths say they don't have any that are relevant for the workplace.
Despite this, the top skills and experience that young people admit to possessing, but wouldn't think are appropriate to include in a CV, are:
Computing skills - 76%
Problem-solving abilities – 48%
Organisational skills such as planning/coordinating – 42%
Familiarity with multiple social-media platforms – 38%
Good telephone manner – 31%
Photo-editing skills – 27%
First aid skills – 20%
Video-editing skills – 17%
Creating and managing a YouTube channel – 14%
Writing a long term blog – 13%
Surprisingly, 42% say they've never been offered help writing or presenting one a CV, despite 49% saying they would benefit from the guidance and support.
Kirstie Mackey, head of LifeSkills, said: "In a competitive job market, it's important to present yourself in the best possible way, and your CV is normally the first encounter with a potential employer.
"Our research shows that there is a significant number of young people without a CV or who would like help formulating one.
"That is why LifeSkills has created a smart CV Builder, to provide practical help to young people to present their best self and skills to employers so they can successfully transition into work".
Over two fifths of young people say they prefer to promote themselves through networks such as LinkedIn, rather than through a traditional CV, mainly because it feels less formal and is similar to other social media channels.
There's also a section for academic achievements and awards - so it feels less boastful to include them.
To help young people feel confident writing their CVs, LifeSkills offers a CV Builder to guide candidates through a simple step-by-step process to further populate their CV, providing helpful hints and tips along the way.
It can also connect with a young person's Facebook and Twitter accounts to supplement their CV and help bring some of that social confidence into their professional lives.
News