Legal Apprentices Kick Off Their Training
It's a busy time for new beginnings, and this year's new legal apprentices are no exception! After completing A-levels, a number of school leavers have just started their training to become legal executives with some of the UK's leading international law firms. So what will they get up to?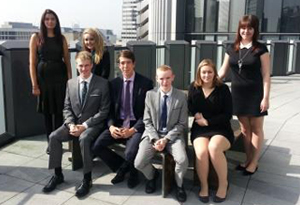 School leavers undertaking these programmes have all completed their A-levels, and will now dive straight into the thick of work and training at top law firms as of this month. Some have taken a gap year before starting their apprenticeships, and there a few individuals who have already been working with firms in secretarial roles or paralegals.
This year sees the launch of a couple of new programmes for professional routes into the law sector, including the Field Fisher Waterhouse Step2Success programme, and the CILEx Level 3 Apprenticeship in Legal Services at Kennedys. It's great news for those who don't fancy the university route and want to dive straight into work in a law firm.
Training to become legal executives
Field Fisher Waterhouse welcomes its first five students to join the firm under their scheme, which will include an induction to the firm, supervised work and in-house training from their colleagues whilst they also study the CILEx Level 3 Professional Diploma in Law and Practice to become lawyers. The chartered legal executive and paralegal career path allows these legal professionals to practise many of the same duties carried out by a solicitor.
Those on the Kennedy's programme will be taking on the brand new CILEx Level 3 Advanced Apprenticeship in Legal Services. Their mentors will include Kennedys apprentices from the 2012 intake who, having now successfully completed their Legal Administration apprenticeships progress to the Higher Apprenticeship in Legal Services.
Good luck to this year's intake!
News