Apprentices make the most loyal Employees
Emma Finamore
Last updated 23 Jun 2015
New research shows that employers believe apprentices are the most loyal employees. But why?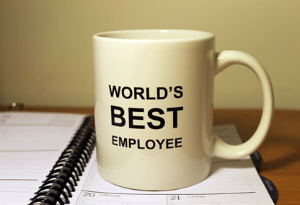 A survey of 555 employers in England has found that more than half (56%) of employers offering apprenticeships, say that apprentices stay in the business longer than other recruits.
The research, conducted by the National Apprenticeship Service, reveals that of this 56% of employers, 59% say loyalty is down to the quality of the training provided. More than half think it's down to the fact that apprentices have the ability to learn and grow in the business from the bottom up.
A third say apprentices are more committed to the business than other employees.
Virgin Media's Head of Apprenticeships, Chris Starling, backs up the findings of the research. "We love having apprentices on board, they help keep our workforce fresh and are highly engaged in what we're trying to achieve as a business," he said.
"Apprentices' energy and attitude doesn't just rub off on the rest of the business, but also on our customers, which is why apprentices always prove their value to the business."
Managing director of Blue Moon Creative, Michael Taite, supported the findings about apprentices being able to grow and develop within a company: "Apprentices have brought liveliness, new skills, new ways of learning and looking at things, and great optimism.
"With apprentices, we have been able to grow the talent and our client relationships alongside each other, and we're now winning new business, which reflects our higher skills base."
Lois McClure, Member Services Department Assistant at The Co-operative, started out as an apprentice and feels a great sense of loyal to the company. "The experience of my apprenticeship has been life-changing for me, " she said. "It's given me the skills and opportunities I never would have had if I had not been given the chance in this role.
"The Co-operative is a place that really values its employees and the contribution that they can make. I am part of a great team, and I have an extremely supportive line manager who has helped me to continually develop throughout my time in the business.
"I am really getting to know how the business works, its culture and, its values and ethics which I share. I feel that I can make a difference, and that my contribution is valued."
The survey also revealed that apprenticeships are not just helping employers to build a loyal, skilled workforce, but enabling them to attract new business. 76% of apprentice employers polled say they promote their apprenticeship credentials when pitching for new business or talking about their company, with just under 40 per cent saying it is a key element of their pitch.
A third of all the employers questioned said they would be more likely to choose a supplier or partner if they offered apprenticeships., and 35% of apprentice employers say they actively advocate apprentice recruitment through their supply chain.
News