Clare Balding & Tom Daley Inspire the Next Generation of Young Women in Sport
This week saw the launch of a national campaign to inspire girls from state schools all over the country to explore a career in a male-dominated industry: sport. Don't worry, if you missed it there's a chance to catch the campaign near you soon…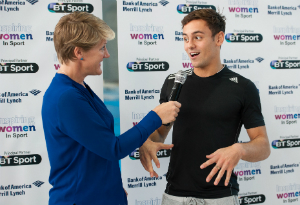 Sports personality and all round national treasure, Clare Balding, joined the Inspiring Women campaign this week, along with 300 girls from 18 state schools at the London Aquatics Centre in London, for a career networking event with women working across the sport sector.
A whopping 75 influential women from sports governing bodies, professional athletes and sports media took part, representing a variety of sports with a special guest appearance from Olympic Bronze medal winning diver, Tom Daley.
Clare said: " I love my job and am determined to do as much as I can to help girls and young women aware of the opportunities available in sport for a fulfilling and enjoyable career.
"I know that this exciting event at the Aquatics Centre will help inspire girls to pursue a career in sport and I'm delighted to be a part of it."
Inspiring Women founder, Miriam González Durántez said: "It is wonderful to see the Olympic Aquatics Centre taken over by so many amazing women and girls sharing a common interest: sport. It is particularly uplifting to see, for the first time, all the sport bodies united with the aim of inspiring the next generations of girls.
"All the women who have come today are sharing their experiences with the girls and showing to them the many fulfilling and rewarding sport sector careers that are within their reach."
More career speed networking sessions will take place across the country during Inspiring Women in Sport Week which runs from 23 February to 1 March, including events at BT Murrayfield rugby ground in Edinburgh and the National Tennis Centre in west London.
Inspiring Women in Sport, backed by BT Sport, is part of a bigger Inspiring Women campaign aiming to get 15,000 women to volunteer one hour of their time to talk to girls about careers in male-dominated industries. Want to get involved? Check out the website and follow #womeninsport on Twitter.
News