Top Ten Apprenticeship Sectors in 1914 and 2014 Compared
New historical research which forms part of the centenary apprenticeship commemorations has revealed some interesting differences and traits in popular apprenticeship sectors back in 1914 compared to 2014, as well as some rather different attitudes to struggling apprentices!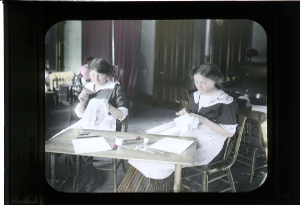 The research shows that a couple of today's big apprenticeship sectors, engineering and construction, were still highly prominent one hundred years ago. However, nowadays there have been big changes in sectors that have opened out to young people to offer a combination of training and learning on the job.
Here's the top ten apprenticeship sectors for then and now:
1914
Dressmaking
Engineering
Carpentry
Drapery
Millinery
Fitting
Joinery
Tailoring
Plumbing
Printing
2014
Health and social care
Business administration
Management
Hospitality and catering
Customer service
Children's care learning and development
Retail
Construction Skills
Engineering
Hairdressing
2014 shows a switch towards many more business-related opportunities, reflective of plenty of industrial and economic change over the past century. More and more are turning to careers in health care and professional services rather than more traditional artisan trades like dress and hat making.
The historical research also highlights a difference in apprenticeship age ranges. Back in 1914, the majority of apprentices would start working between the ages of 15 and 17. In 2014, it's mostly around the age of 19 and 24.
The apprentices of 1914 also had fees to consider. They would have to pay for their own tools from their salaries as well of the cost of their training – something today's apprentices luckily don't have to cough up for! Today's training is also much more structured and supported.
But perhaps the most surprising fact revealed by the research is that apprentices deemed to be not up to scratch could be taken to court by their employers. Back then, bad behaviour as an apprentice in the workplace, from perceived laziness to cheek, could land you in front of a judge!
Nowadays the choice of apprenticeships available to school leavers is huge, with plenty of support, opportunities for professional qualifications and career development available.
News