National Apprenticeship Week: London bus tour to promote apprenticeships
Emma Finamore
15 Mar 2016
All aboard for an inspiring and informative trip!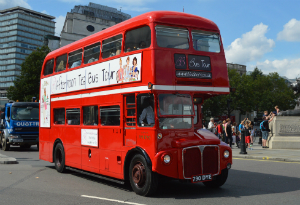 A bus tour is hitting the streets of the capital to promote and celebrate apprenticeships as part of National Apprenticeship Week.
The Apprenticeship Information Ambassador Network (AIAN) is enlisting the help of a double-decker Routemaster bus, and will be travelling across London on Wednesday to promote the latest information on apprenticeships.
The AIAN bus will have apprenticeship ambassadors and apprentices on board, handing out leaflets and promotional materials at various venues across London to spread the word.
The AIAN in London was established over three years ago by the National Apprenticeship Service (NAS) to deliver free impartial information on apprenticeships in a variety of settings, including schools career days, sixth form events, pupil referral units, job fairs, Job Centre Plus, youth clubs, and parent-teacher associations.
The tour will travel across London and visit venues including Spotlight in Tower Hamlets, Oaktree Community Centre in Acton and Kingston Town Centre.
Oreleo Du Cran, SERTUC unionlearn's apprenticeships support officer, has been working with AIAN to support apprentices in the capital.
"AIAN using a London Bus to travel around during National Apprenticeship Week is a great way to spread the word on, not only the benefits of apprenticeships, but also the need to deliver quality," said Du Cran.
"This can raise the profile for unions, employers and training providers, but most importantly young people who are still worried about following the right career moves and this gives them an opportunity to ask questions from current apprentices who will be on the bus. I am proud of the work that unionlearn has done to support apprentices both regionally and nationally.
Victor Farlie, executive chair of the London Work Based Learning Alliance, said: "Collaboration works: over 30 providers are successfully working together to deliver free impartial information on apprenticeships across London. It is inspiring and for young people life-changing.
"Some of the best providers across London bring their expertise and enthusiasm by proactively working together to promote the apprenticeship offer to our young people. It is a credit to the sector."
The AIAN Bus Tour is part of the ninth annual National Apprenticeship Week, which takes place from 14-18 March 2016, with hundreds of events expected to take place across England.
News