National Apprenticeship Week: 77% of apprentices get full-time jobs with their apprentice employer
Emma Finamore
Last updated 14 Mar 2016
Now those are some odds we can get behind.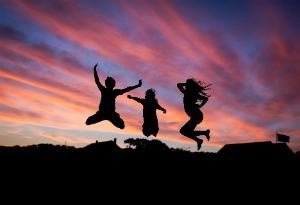 New research has revealed almost four fifths of apprentices get full time employment at the end of their apprenticeship, as the UK celebrates the programmes with National Apprenticeship Week.
The research showed a further 92% of apprentices believe their apprenticeship will give them an advantage when competing for jobs against those who haven't completed one.
The study, conducted by apprenticeships provider Positive Outcomes – a government-funded training and apprenticeships provider – surveyed 227 apprentices aged between 16 and 24, as part of research ahead of 2016 National Apprenticeship Week.
All of those questioned were either currently enrolled on an apprenticeship or had previously completed one.
Ryan Longmate, joint managing director of Positive Outcomes, said: "The fact nearly four out of five apprentices go on to gain full time employment with their apprenticeship provider is a remarkable statistic.
"When you compare that to going to university, where, having completed your degree programme, the process of job hunting begins in earnest, it really is a fantastic endorsement of an apprenticeship as a career route. Not only do you earn, learn and gain invaluable experience, you then avoid the stress of job hunting at the end of it."
As part of the wider study, respondents were asked: 'Now that you have finished your apprenticeship, did you get a full-time job afterwards with the same employer?' to which 77% said that 'yes' they did, whilst a further 4% were offered a part time position. Only 19% of respondents said "no".
Longmate said: "When you add in the part time employees, the results suggest more than 80% of apprentices continue working having completed their qualification.
"So not only have they been paid throughout their apprenticeship, gaining a qualification as they go, but they also don't have to negotiate the minefield of job applications upon completion as they're already there and settled in.
"Even those who haven't gone on to a full time position can still take away unequalled experience and a nationally recognised qualification to boost their CV."
The study also asked, "Now that you have finished your apprenticeship do you think it will give you an advantage when going for jobs against others who haven't undertaken an apprenticeship?" to which 92% believed that it did.
Longmate said: "This statistic is another ringing endorsement of apprenticeships. The experience and business insight garnered through an apprenticeship is educationally unparalleled and sets former apprentices in excellent stead to go on and progress in their careers.
A recent Comres study, conducted in 2015, suggested only 52% of graduates regarded their degree as value for money. "While this isn't directly comparable," said Longmate. "When you consider apprentices pay no tuition fees and in actuality get paid to learn, it really puts apprenticeships in an extremely favourable light.
"The research findings just serve to highlight what a wonderful career option apprenticeships are. Let's hope they'll persuade yet more youngsters to undertake one. If our study is anything to go by, they'll certainly not regret it!"
News