MHA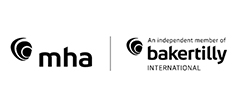 Accounting
School leaver programmes, Higher Apprenticeships
Profile
Global, forward-thinking and dynamic, we're a top 13 independent accountancy firm that's been around since 1880. Our expertise across sectors ranges from agriculture to healthcare, manufacturing to media, leisure to education and more!
We have offices in London, the South East, East Anglia and the Midlands, but extended our reach in the UK by establishing MHA in 2010, an association of like-minded independent UK accountancy firms. Our membership of Baker Tilly International gives us a global profile and creates overseas secondment opportunities, currently in locations that include New York, Hong Kong and Australia.
Culture & Values
Talk to people at MHA and they'll say we are a friendly team, that we offer opportunities to develop and that we are ambitious.
Importantly, this means we're creating sustainable career paths for those who are part of our journey. We value your opinions, your ideas and ability to innovate. After all, it's your ideas that can help us improve client service or find more efficient ways of working.
Our own values of Service, Teamwork, Attitude and Relationships help us create a successful working environment and underpin how our people and clients experience MHA. These values are integral to ensuring our people are engaged and motivated and are evident in everyday working life at the Firm.
Service - We care about what matters to you
Teamwork - Building the future together
Attitude - Can do, will do
Relationships - Succeeding together
Recruitment process
We offer school leaver and graduate programmes to study towards your respective qualifications in accounting and tax. As a trainee at MHA, you will work with a variety of clients across many industry sectors, being close to the decision-makers in those businesses from the get-go.
Here are the steps you will need to undertake as part of the application process:
Application form
Online assessments
Assessment centre
Interview
You can find out more on our Careers page at: Trainee Hints & Tips | MHA
Salary & benefits
Genuine work life balance
Accredited Investor in People
International secondment opportunities available once qualified – with the help of our BTI Network
New and improved programme for succession planning and supportive management structure to provide you a pathway to progression
Competitive salary
28 days holiday Inc. Bank Holidays, plus the opportunity to buy up to 5 days
Employee recognition awards and bonuses
Award-winning training
Requirements
We ask that all applicants have achieved or a predicted to achieve a minimum of 112 UCAS points at A level or equivalent for our school leaver training programmes. In addition, we ask that all graduate applicants have achieved or are predicted to achieve at least a 2:1 at university.
Apply
We are recruiting trainees at a variety of locations. All of our trainee vacancy listings can be viewed on our website.