CMS UK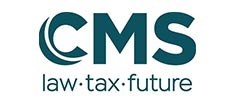 Profile
CMS is a future facing firm. Whether stakeholders are big or small, they always have the firm's full attention and expertise. In a world of ever-accelerating change where technology is increasingly important, our clear, business-focused advice helps clients of every size to face the future with confidence.
CMS is a full service law firm combining top quality sector expertise with international scale. We embrace technology and are committed to new ideas that challenge conventional ways of doing things.
CMS puts the interests of clients at the heart of everything we do across 70+ offices in 40+ countries in the UK, Europe, the Middle East, Africa, Asia and South America. With more than 1,100+ partners and 5,000+ lawyers, CMS works in cross-border teams to deliver top quality, practical advice. The firm is recognised for its sector excellence and focus in consumer products; energy; financial institutions; hotels & leisure; infrastructure & projects; life sciences & healthcare; real estate; and technology, media & telecommunications.
School leaver opportunities
PRIME
Law Scholarship
Apprenticeships
Solicitor Apprenticeship Programme
Salary & benefits
Varies by Programme, see our website for more details: CMS Early Talent · Be the future of law
Requirements
Varies by Programme, see our website for more details: CMS Early Talent · Be the future of law