Poll of young People puts UKIP ahead of Lib Dems
Sorry Nick, it's not looking too good.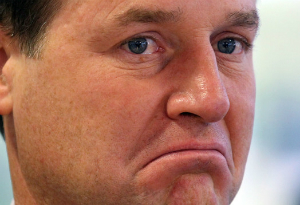 A flash poll revealed today that UKIP is more popular with young people than the Liberal Democrat party
Shout Out UK, an organisation aiming to engage young people with politics, polled 500 18-25-year-olds. When asked which party they would prefer to see in government, the majority put Labour in the lead with 28% of the votes.
The Green party came second with 27% and Conservatives came third with 17%.
Perhaps surprisingly, the Lib Dems (traditionally popular with young voters) is trailing behind with only 6% of the vote.
Even more surprising is the result for UKIP. The party, usually associated with older voters, got 8%. This is 2% more than the Lib Dems.
Only 8% of the young people polled said they wouldn't vote in this election, a positive result for the founder of Shout Out UK, Matteo Bergamini.
Matteo said: "Politics is part of everyone's life; saying 'I don't find it interesting' won't make you immune to the government's laws. It's our right and duty to get involved."
Shout Out UK is an independent news network that, via journalism, film and events, aims to show young people that politics has a direct impact on everything in life, with the aim of lowering political apathy among the next generation.
News