What's in the Lib Dem Manifesto for School Leavers?
After famously u-turning on student loans, can the Lib Dems ever win back young voters?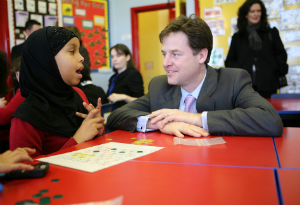 It's Nick Clegg's big chance to pull away from the Tories, so what is he offering the demographic the Lib Dems so badly need to make up with?
The party says it'll spend more on education than either the Conservatives or Labour. It wants to train more people in STEM subjects (maths, science, engineering and medicine) and increase the number of apprenticeships, by doubling the number of businesses hiring high-quality and advanced apprenticeships apprentices, while making vocational education equal to academic qualifications.
The party also wants to make sure those who choose to go into apprenticeships will have appropriate work placements and preparatory training in schools.
In addition to more science training, the Lib Dems pledged to improve careers advice in schools and colleges, as well as promoting self-employment and entrepreneurship.
They want to create thousands of new high-tech jobs to support an increasingly green economy throughout the UK.
They would set up industry-specific skills colleges, and work to make sure the training matched the skills gaps in the economy.
For those of you going straight into work, the Lib Dem Party would increase the personal tax-free allowance to £12,500.
News