What's in the Labour Manifesto for School Leavers?
Ed kindly took some time off rehearsing bacon sarnie eating to announce Labour's manifesto. As a school leaver, does the party get your vote?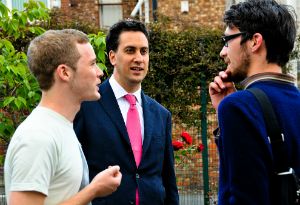 The Labour Party announced its manifesto for the 2015 election race yesterday. So what does it mean for school leavers?
The party has pledged to reduce university tuition fees to £6,000 a year - a £3,000 drop from their current levels.
For those who don't want to go to uni, the party promised to guarantee an apprenticeship for every school leaver that wants one - if they manage to achieve a set of minimum grades.
Previously, Labour has said many of these apprenticeships will be on the new High Speed 2 railway line, set to connect London to Birmingham by 2026, then Leeds and Manchester by 2033 - it's not being built yet though, so there may be a wait for those apprenticeships.
In addition, the party will demand that any firm that gets a large government contract to offer apprenticeships.
In terms of careers advice and skills, the party says it will offer face-to-face tuition to all school pupils, while making sure everyone in England learns English and maths until the age of 18.
The BBC found in a recent survey that cheaper education and more apprenticeships is important to 24% of young voters, so Labour stand to win about a quarter of the young vote if that's the issue on which they base their decisions.
News