Ed Milliband gives school leavers an apprenticeship guarantee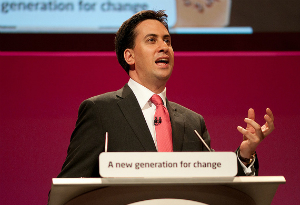 Ed Milliband made the pledge as part of a speech today, outlining his party's business policies for the general election.
Labour's "apprenticeship guarantee" would only apply to young people who gain level 3 qualifications, which are equivalent to having two A Levels. Those with two A Levels would also qualify, but not those who only have GCSEs.
The Conservatives have pledged to introduce further cap benefits to fund three million apprenticeships, but Labour have promised an extra 80,000 apprenticeships, with 33,000 to come from a single project: the HS2 rail line.
According to Milliband, the policy would be paid for by private companies bidding for public sector contracts, who would be required to offer two year apprenticeships, and by diverting money from in-house training to "proper" apprenticeships.
Money would also come from funds earmarked for Labour's Jobs Guarantee, for young people who are unemployed for a year.
In a speech to workers at the Jaguar Land Rover factory in Wolverhampton, Miliband said: "At the moment just one in 10 employers in England offers an apprenticeship. Six times fewer high quality apprenticeships than Germany.
"We can do better, and with our plan we will: the public sector playing its part with thousands of apprenticeships; every firm that wins a major government contract required to deliver apprenticeships; every firm recruiting from outside the EU required to do the same; with businesses having more control over the funding.
"It is time to match the aspirations of our young people with the high quality apprenticeships they deserve."
Milliband also discussed the importance of the creative industries and their role in the development of young people's careers: "Let's make sure creativity is encouraged, not denigrated, in our schools."