Willis Towers Watson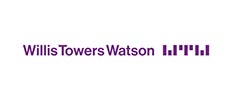 Accounting, Actuary, Banking & Finance, Design, IT, Management, Technician
Profile
We're Willis Towers Watson, we're in the business of people, risk and capital. With offices all over the world and an impressive breadth of business functions, an early career with us is where potential and possibility meet. If you have ambition, flexibility and a collaborative approach, learn more about everything we offer and discover what roles we have available near you.
School leaver opportunities
Willis Tower Watson do not offer a School Leaver Programme.
Apprenticeships
Click 'view jobs' to apply for an apprenticeship with Willis Tower Watson.
Salary & benefits
As well as getting a competitive salary from day one, you'll enjoy paid time off and an annual paid volunteering day. Other aspects of our total rewards programs vary by business/geography so please ask your recruiter for more program-specific information.
Requirements
Each of our apprenticeships comes with its own unique challenges, so it's definitely worth checking the program you're applying for to make sure you meet the specific requirements of the role. Wherever you join us, you will need to be ready to start contributing from day one and committed to building up your skills, knowledge and experience throughout your time at Willis Towers Watson.
Apply
Click onto a posting and then click 'apply' now!