TUI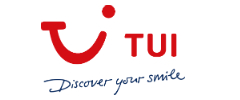 Hospitality, Teaching, Travel & Tourism
Editorials
Profile
TUI UK & Ireland is the UK's largest tour operator with key brands including Thomson and First Choice. We employ a team of 13,300 employees and serve over 5.2million customers each year.
We're a part of the TUI Group, the world's number one integrated tourism business operating in around 180 countries worldwide with over 1,800 travel agencies across Europe, six airlines operating more than 130 aircraft, more than 300 Group-owned hotels and resorts and twelve cruise ships. Our 77,000 colleagues, all with a passion for holidays, work hard to deliver our customer promise: Discover your smile.
Why work for us? The unparalleled career opportunities are a good start. But the real attraction lies in our work – spreading smiles and making customers happy. For us, there's no better feeling than that. Join TUI and you'll soon see how this sense of job satisfaction combines with extraordinary career progression to make for a great career in the travel industry.
School leaver opportunities
TUI is not currently offering School Leaver Programmes, check out their Apprenticeship scheme to see the exciting opportunities they offer.
Apprenticeships
TUI UK & I commercial apprenticeship - Higher Apprenticeship in Business & Professional Administration - Level 4
This is a two year programme where one year will be spent in our product department and the other year will be spent within our trading teams. There are opportunities for secondments throughout the apprenticeship to gather further commercial knowledge outside of these departments. There are many opportunities for development from team projects and companywide training schemes to Sustainability and employee wellbeing.
Salary & benefits
£15,500 starting salary, 25 days paid holiday plus bank holidays, £500 holiday concession after 1 years' service, heavily discounted last-minute flights, Discounts for friends and family, excellent training and career development, Roles with responsibility from day one.
Requirements
TUI requires candidates to have -
- A predicted minimum of 280 UCAS points (112 UCAS points for the 2017 tariff) -
- A-level grades B, B, C or equivalent
Apply
To apply, click HERE