Standard Chartered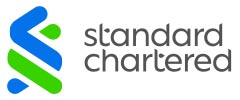 Banking & Finance, IT, Security
Profile
We are a leading international bank focused on helping people and companies prosper across Asia, Africa and the Middle East.
To us, good performance is about much more than turning a profit. It's about showing how you embody our valued behaviours - do the right thing, better together and never settle - as well as our brand promise, Here for good.
We're committed to promoting equality in the workplace and creating an inclusive and flexible culture - one where everyone can realise their full potential and make a positive contribution to our organisation. This in turn helps us to provide better support to our broad client base.
School leaver opportunities
Please click on the 'Apprenticeships' tab to find out about the Standard Chartered Cyber Security Apprenticeship opportunity.
Apprenticeships
The Cyber Security Apprenticeships will be based in our London office, EC2V 5DD and gives an insight into various areas of Information Security and includes up to four structured developmental rotations, academic learning, leading to a Level 4 Cyber Security Technologist Apprenticeship qualification (Risk Analyst option) and developmental initiatives over a period of 24 months. The role will include:
Update Risks, Assumptions, Issues, Dependencies (RAID) logs
Coordination of the Function education and awareness programme
Observer for Crisis Management exercises and contribution to lessons learnt discussions
Incident Management support including incident logs and action tracking
Learning Threat Intelligence tradecraft, to better understand and track adversaries targeting the Bank
Perform initial research via use of various sources into adversary tools, techniques and procedures
Salary & benefits
£18,000 per annum and to view information on our benefits, please visit our career pages.
Requirements
In addition to a passion/curiosity for technology and a desire to learn, the successful candidates will demonstrate:
Broad understanding of cyber
Good communication skills with both a technical and non-technical audience
Planning and organisational skills
Attention to detail with problem solving skills
Forward thinking and the ability to think outside the box
Apply
Apply now to join the Bank for those with big career ambitions.