Standard Chartered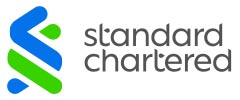 Profile
We're an international bank, nimble enough to act, big enough for impact. For more than 160 years, we've worked to make a positive difference for our clients, communities and each other. And we're on a journey to innovate and transform, with the employee experience at the heart of our evolution. We question the status quo, love a challenge and enjoy finding new opportunities to grow and do better than before.
Our purpose and valued behaviours matter to us
Our purpose: 'to drive commerce and prosperity through our unique diversity' together with our brand promise: to be 'here for good' are achieved by how we each live our valued behaviours. When you work with us, you'll see how we value difference and advocate inclusion. Together we:
Do the right thing, value braveness, challenge one another, and live with integrity, while putting the client at the heart of what we do
Never settle, continuously striving to improve and innovate, keeping things simple and learning from both the things that go well, and those that don't!
Are better together, creating an inclusive place where each person is valued for being themselves, collectively working toward sustainable solutions
School leaver opportunities
Apprenticeships
About the Financial Markets Apprenticeship Programme
You'll start on our bespoke 9-month foundation programme designed to equip you with the skills and knowledge to fast-track you to the Level 6 Apprenticeship while gaining qualifications from the Chartered Institute of Securities and Investments (CISI)
The Level 6 Apprenticeship leading to a CFA Level 1 qualification will be fully funded by us, and will combine tailored external learning and on-the-desk training across sales, trading and our credit business
Alongside classroom and on-the-desk learning, including those that will develop your communication and presentation skills, your day-to-day responsibilities will mean you'll be contributing to the business from the outset
Mentors, peers and stakeholders will support you as you navigate the organisation with senior stakeholder engagement sessions and events to truly immerse you into the global Standard Chartered Bank network
Upon successful completion of the programme, you will be offered a full-time position in front office business
Salary & benefits
£28,000 (growing year on year, linked with performance)
Requirements
We're looking for people who are
Hard working, resilient, with a drive to learn
Able to build strong relationships and with good communication skills
Reliable and able to work under pressure
Has a curious and proactive approach with an open mindset
Logical and an interest in understanding and analysing data.
Academic criteria
We're looking for potential, not academics, which means we won't look at your grades, but we'd like to see that you're committed to your learning and development beyond your GCSEs, which could be through traditional education, but doesn't have to be.
If you have a degree, you are unable to apply for this programme, but you can apply to one of our Graduate opportunities.
Apply
With us, we'll help you pursue your ambitions, develop your skills and grow your career. You'll get real responsibility, hands-on training and the support you need to help you succeed.
Connect with us on social media