Smith & Williamson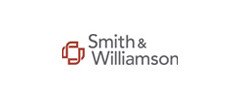 Accounting, Banking & Finance
Higher Apprenticeships, School leaver programmes
Profile
Smith & Williamson is a leading independently owned financial services firm combining an accountancy practice, investment management arm and a private bank.
It's our breadth of services that makes us unique in the industry as we provide award-winning services to a broad range of clients such as start-ups, high-net-worth individuals, corporates, professional practices and non-profit organisations.
We have 12 offices around the UK, Ireland and Jersey, and we're a member of Nexia International, a top 10 global network of independent accounting and consulting firms. This means we're well-connected to thousands of colleagues around the world, exchanging knowledge and professional expertise daily.
We can offer you much more responsibility than you might expect. You'll be working on real projects and liaising with our clients from the start — it's our approach to clients that makes this a more fulfilling place to work.
A career here means having more you-time than you might get in other firms. We believe in getting that work/life balance just right because it's not just good for you, it's good for us too.
If you're looking to get more out of your future, we think you'll love life with Smith & Williamson.
School leaver opportunities
To see the exciting opportunities that Smith and Williamson offer, please see the Apprenticeship tab for more information.
Apprenticeships
At Smith & Williamson we recruit high calibre people with the skills, knowledge and commitment to meet the demands of the business. We offer a number of entry routes to start your professional training.
You'll never know how satisfying it is to be a young professional until you walk through the doors at Smith & Williamson. If you're the kind of person who likes to follow your own path and you're looking for something more from your future career, we think you'll fit right in with us.
Our structured graduate training programmes cover a broad range of areas to produce the future's brightest accountants and tax advisors. Each one is driven towards you becoming ACA, ATT, CTA or CISI qualified.
Our apprenticeship programme will allow you to earn a full-time salary, whilst being supported towards a professional qualification and gaining hands-on experience in a job. If you're looking for an opportunity where you will be doing real work, for real clients with real responsibility from an early stage, look no further. We take apprentices into the following business areas:
- Assurance & Business Services
- Business Tax
- Private Client Tax Services
Many of our very best people have worked their way up from where you are now, and they'll be there to offer advice and support throughout.
Salary & benefits
Head over to Smith & Williamson's site to see the salary and benefits they offer on their programmes
Requirements
Apprentice roles in Assurance & Business Services, Business Tax and Private Client Tax Services require a minimum B grade in GCSE Maths and English Language and 280 UCAS points in your top three A-levels (excluding General Studies).
However, joining us is not just about the academic qualifications. We know you're bright, but we're looking for something extra: the difference that you can make to our team.
We're looking for people who are able to work both independently as well as being strong team players with the ability to work effectively with others, both from their own and other departments within the firm. This means that you can get to the heart of our clients' needs and provide tailored and effective solutions.
You'll have a genuine interest in business and be committed to and enjoy meeting challenges, both those of our client business and your own career development.
In return, we'll provide all the support and experience you need to help you grow into a trusted business adviser. For us that means exemplary client service, so you'll be keen and able to learn from experts in their fields, and develop your own skills across a diverse client base.
Apply
Applications open on the 1st September 2017 – we advise you apply as early as possible. All applications should be submitted through our trainee website.