Smith & Williamson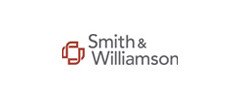 Accounting, Banking & Finance
Higher Apprenticeships
Profile
Smith & Williamson is a leading independently owned financial services firm combining an accountancy practice, an investment management arm and a private bank.
We have been providing independent, first-class financial advice to clients for over 100 years. Today, we are unique in the market, offering investment management, financial advisory and accountancy services as well as private banking.
It's not just the breadth of our expertise that makes us stand out. Professional practices, corporates, non-profit organisations and individuals value the premium we put on our client relationships. People are the cornerstone of our business - and that includes our employees.
To provide the service our clients expect we know our trusted business advisers need an empowering and supportive work environment. With 13 offices across the UK, Ireland and Jersey, and global reach through membership of Nexia International, we're big enough to be competitive. Yet our size means you'll be part of a friendly, enthusiastic team – and get to know colleagues across the firm.
School leaver opportunities
To see the exciting opportunities that Smith and Williamson offer, please see the Apprenticeship tab for more information.
Apprenticeships
Our apprenticeship programme will allow you to earn a full-time salary, whilst being supported towards a professional qualification and gaining hands-on experience in a job. If you're looking for an opportunity where you will be doing real work, for real clients with real responsibility from an early stage, look no further. We take higher apprentices into the following business areas:
- Assurance & Business Services
- Business Tax
- Private Client Tax Services
Whilst with us, you will work towards obtaining a professional qualification; either the Certificate of Finance and Business (CFAB) or Associate Tax Technician (ATT). Upon successful completion of the CFAB or ATT qualification and positive performance appraisals, you will have the opportunity to qualify as either a Chartered Accountant (ACA) or Chartered Tax Adviser (CTA). Both the ACA and CTA qualification are renowned as one of the most advanced learning and professional development programmes available.
Smith & Williamson will provide full support throughout your studies, including ongoing in-house training, appraisals, and mentoring.
Many of our very best people have worked their way up from where you are now, and they'll be there to offer advice and support throughout.
Are you ready to start building a career with a clear difference? Then take a look below and discover more about the firm and our opportunities. All higher apprenticeship applications should be made online – applications open on 1st September 2017 and we recruit on a rolling basis; please apply early to avoid disappointment.
Want to find out more? Visit our trainee website; www.smithandwilliamsontrainees.co.uk to read and watch our current trainees' case studies and to apply online.
Salary & benefits
Salary and benefits include -
- Life Assurance at 4 x annual salary, subject to a shadow earnings cap
- Permanent Health Insurance at 75% of salary less state benefits
- 23 days holiday
- Paid overtime with the prior approval of manager
- Interest Free Season Ticket Loan
- Swoptions – benefits that can be bought via salary exchange:
- Holiday – you have the ability to buy up to 3 days holiday but you can sell up to 5 days
- Ability to buy Critical Illness Insurance, Dental Insurance, Health cash plan, childcare vouchers, Private Health Insurance.
- Salary Exchange for Pension Contributions
Requirements
Candidate profile: School leavers looking for an alternative to university
Entry Requirements:
• 280 UCAS points (or equivalent) in your top three A-levels (excluding General Studies)
• GCSE English and Maths (or equivalent) at a minimum of grade B