Siemens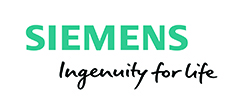 Accounting, Automotive, Construction, Electrical, Engineering, Environmental, Transport & Logistics, Welding & Metalwork
Profile
One of the world's most inspired technology and engineering companies, Siemens has built the most important and innovative parts of our society – from rail and power generation to cities and renewable energy. Now, our mission is to pioneer a digital planet.
Apprenticeships are a great way for us to turn today's talented young people into the experts we need tomorrow. Whether you're interested in Engineering, Business Administration or Finance, we have opportunities for you.
We have more than 500 apprentices at Siemens in total and, with over 15,000 people working in the UK, you'll play an important part in everyday life here. It's why nearly all of our apprentices go on to secure permanent roles once they finish.
As an apprentice, your role will be as diverse as the things we make. In the UK alone, we manufacture products such as industrial gas turbines, traffic lights and train radios, help produce cleaner energy through wind turbines and keep rail networks running smoothly with more efficient trains.
Apprenticeships at Siemens allow you to get paid, hands-on work experience building the innovations of tomorrow. Change the future, anticipate the new, all whilst studying for an industry-recognised qualification.
School leaver opportunities
Siemens are not currently offering School Leaver Programmes.
Apprenticeships
Advanced Apprenticeships
Mechanical Engineering
Electrical / Electronic Engineering
Manufacturing
Mechatronics
Engineering Maintenance
Rail Engineering
Business Administration
Engineering Technical Support
Higher Apprenticeships
Mechanical Engineering
Electrical / Electronic Engineering
Technical Sales
IT
Data Analyst
Manufacturing
Rail Engineering
Business Administration
Finance
Degree/Masters Apprenticeships
Control/Technical Support Engineer
Accountancy/Taxation Professional
Salary & benefits
Varies depending on role, up to £18,000 per annum
Requirements
Varies depending on role
Apply
Screening: You'll complete an online application form with CV, which is screened by our talent acquisition team. Game-based assessment: We'll look at behavioural traits and cognitive ability to check if you fit the Siemens target profile. Assessment centre: This is the final stage, and usually includes a strengths-based interview and group exercise.