Severn Trent Water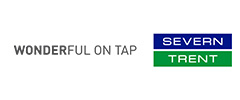 Energy & Utilities
Higher Apprenticeships
Profile
With eight million customers we do something incredible everyday, supplying almost two billion litres of water. From rivers and reservoirs across the UK we connect communities with the world's most precious resource.
We live in a fluid world and the water industry is changing. We're moving with the current and our vision is to become the UK's leading water company. Achieving it will take, what we call, Fluid Thinking.
From accelerated leadership training to hands-on experience and involvement in community projects, there are so many reasons to work at Severn Trent. Here's our top seven:
A Transforming Business:
Deregulation, digital innovation and developing our network makes us a business that's on the move. There's never been a more exciting time to get involved and together we're going to shape the future of an industry.
Unbeatable Career Prospects:
We want you to share our ambitions and achieve them. We know making the journey from apprentice to business leader takes support so we'll help you gain nationally recognised professional qualifications. If you want to take things even further – we'll be there.
New and Exciting Challenges:
Water might seem like a simple substance, but harnessing its power takes intelligence and invention. Here at Severn Trent you'll work with the very latest technology, tackle climate change and find new ways to supply a growing urban population.
Recognition for Brilliance:
Working with water is rewarding and if you make a big splash, we'll recognise you for it.
Making a Difference:
We forge close and lasting connections with our local communities. You can be involved from the start, whether you're designing gardens for schools or fundraising for a charity.
Because we Care:
As a fair and ethical business, we think carefully about our environmental and economic impact.
You're the Fluid Future:
If you join as an apprentice, you're going to help drive our business forward. We're looking for people who can build the future on smart thinking, creativity and a willingness to challenge – and be challenged.
So what kind of thinker are you?
Are you analytical and logical, a whizz with technology or maybe just good maths? If this sounds familiar a Severn Trent apprenticeship could be for you!
With a wide variety of Advanced, Higher and Degree apprenticeships available, no matter what skills you have, if you have the ability to learn, adapt and approach problems from different angles, you'll be at the forefront in a step-change in thinking – Fluid Thinking!
No matter what kind of brain you have, an apprenticeship with Severn Trent will take Fluid Thinking: the ability to learn, adapt and approach problems from different angles.
School leaver opportunities
Severn Trent do not currently offer any School Leaver Programmes, see their Apprenticeship programmes to find out more.
Apprenticeships
During your Apprenticeship, you'll spend two to four years learning and developing your skills, both on-the-job and at college, while earning a competitive salary. You'll learn to juggle real-world priorities in an ever-changing business, from reducing demand and promoting water efficiency to keeping our customers at the heart of every decision we make.
There are eight schemes to choose from and many different routes you can take within them. No matter which discipline you pick, you'll be helping to create a more sustainable future for the water industry – and joining Severn Trent at an exciting time of transformation.
Advanced Apprenticeships
- Utilities Engineering Technician
- Utilities Operational Technician
Higher Apprenticeships
- Engineering (Civil/ Mechanical/ Electrical)
- Project Management
- Utilities Network Management
- Laboratory Technician
- Finance
- Group Commercial
Degree Apprenticeships
- Digital & Information Systems
Salary & benefits
Benefits can be found on the site.
Requirements
The people who tend to do best have an appetite for learning, can approach problems from different angles and are willing to do hands-on work to find a solution. Normally, we ask for:
- Advanced Apprenticeships: at least 5 GCSEs at grade C or above (or equivalent), including Maths, English and ideally a Science subject
- Higher Apprenticeships: 2+ A Levels in relevant subjects or equivalent Certificate/Diploma in Engineering, Advanced Apprenticeship in Engineering
- Degree Apprenticeship: 2+ A Levels in relevant subjects or equivalent Certificate/Diploma in Computer Science, Advanced Apprenticeship in IT/IS
Apply
To apply please visit the Severn Trent site