National Audit Office (NAO)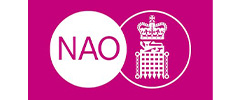 Accounting, Business & Admin
Editorials
Profile
The National Audit Office (NAO) scrutinises public spending for Parliament. Our public audit perspective helps Parliament hold government to account and improve public services.
Our work is 'big hitting', high quality, varied and worthwhile. It has a real impact on the nation. The skills and knowledge of our people are our greatest asset and we are passionate about finding the right people to help us achieve our vision to help the nation spend wisely. Click here to find out more about who we are and what we do.

To find out more about the opportunities we have on offer for school leavers, read about our exciting trainee accountancy scheme here
School leaver opportunities
10 vacancies in London and Newcastle.
Apprenticeships
The National Audit Office only offers a School Leaver Programme at the moment. You can find out more about that by clicking the "school leaver programme" link on the left.
Salary & benefits
School Leaver starting salary is :
London: £23,000 p.a.
Newcastle: £18,000 p.a.
Requirements
300 UCAS points or equivalent from your top 3 A Level grades (or equivalent). General Studies does not count.
Please note from 2017 onwards the UCAS Tariff points are changing, you will require a minimum of 120 UCAS points or equivalent from your top three A level grades (or equivalent).
You must be a UK, Commonwealth, EEA or Swiss national to comply with Civil Service nationality rules and must hold a valid work permit. We are not able to sponsor work visas.