National Audit Office (NAO)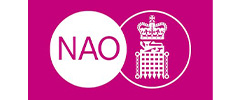 Accounting, Business & Admin
Editorials
Profile
At the NAO, we offer something different – the chance to be part of work that has a real impact on the nation. The NAO is an independent public body that helps Parliament hold government to account for how taxpayers' money is spent. Our vision is to "help the nation spend wisely."
At a time when there is pressure on the public sector's ability to fund and provide high-quality services, the NAO is uniquely positioned to offer support and assurance to Parliament. Our work is impactful and influential. We make a real difference by working closely with government bodies to understand the challenges they face and helping them make improvements in important public services. Our work is wide-ranging – we audit and produce value for money reports on everything from health and education to transport and defence. We have a great reputation among our clients, Parliament, other international audit institutions and the wider accountancy profession for professionalism, rigour and judgement.
Our people (there are around 800 of us in London and Newcastle) are our main asset. We are a relatively young organisation - around two-thirds of our people aged under 40 and we benefit each year from an influx of graduates and school leavers brimming with ideas and enthusiasm. We place great emphasis on training and development and aim to create a stretching and rewarding environment where employees develop their skills and gain the right experience to enhance their individual contribution. We continue to review ways of working, including introducing greater flexibility to working patterns. We focus on developing the skills and expertise of all our people and providing them with greater responsibility early in their careers which equip them with fantastic ongoing career potential.
We are seeking ambitious school leavers keen to make a contribution in this environment and gain a head-start in building their careers.
School leaver opportunities
Our fully funded five-year School Leaver Scheme leads to qualification as a chartered accountant. It's a fantastic opportunity to get a professional qualification without incurring the debt of going to university. At the same time, you'll be earning a competitive salary and getting involved in interesting and challenging work.
You'll spend the first two years studying for the Certificate in Finance, Accounting and Business (CFAB). After successfully completing CFAB, you'll spend a further three years studying to become a fully qualified chartered accountant (ACA) through the Institute of Chartered Accountants in England and Wales (ICAEW).
Visit to find out more about why you should join us.
Apprenticeships
The National Audit Office only offers a School Leaver Programme at the moment. You can find out more about that by clicking the "school leaver programme" link on the left.
Salary & benefits
School Leaver starting salary is :
- £23,620 (London)
- £18,122 (Newcastle)
Requirements
- 300 UCAS points or equivalent from your top three A level grades (or equivalent). General Studies does not count. If you have 280 UCAS points (or equivalent) you may be eligible to apply based on the context of your educational and personal circumstances – please email HRServiceDesk@nao.gsi.gov.uk for further details.
- 5 GCSEs at grade A* to C including Maths and English.