National Audit Office (NAO)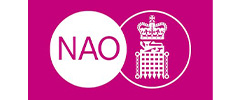 Accounting, Business & Admin
Editorials
Profile
The National Audit Office (NAO) scrutinises public spending for Parliament. Our public audit perspective helps Parliament hold government to account and improve public services.
Our work is 'big hitting', high quality, varied and worthwhile. It has a real impact on the nation. The skills and knowledge of our people are our greatest asset and we are passionate about finding the right people to help us achieve our vision to help the nation spend wisely. Click here to find out more about who we are and what we do.

To find out more about the opportunities we have on offer for school leavers, read about our exciting NAO Accountancy Apprenticeship.
School leaver opportunities
National Audit Office are only offering an Apprenticeship at the moment. Please see 'Apprenticeship' tab for more details.
Apprenticeships
Find out more about their Accountancy Apprenticeship on the 'View Jobs' tab.
Salary & benefits
Apprenticeship starting salary is :
£18,441 (Newcastle) and £24,026 (London).
Requirements
120 UCAS points from top three A-levels (or equivalent) – Under certain circumstances we may consider applications from those who have achieved 104-119 UCAS points (please see website for details.