McDonalds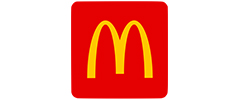 Business & Admin, Hospitality, Retail
Profile
McDonald's is the largest restaurant chain in the world. We serve over 4 million customers a day in our 1,400 UK restaurants alone. Customer experience is at the heart of everything we do, and as our business continues to grow we continually look for new ways to lead from the front.
Working for McDonald's is more than just a job, it's a career! We are passionate about our people and seek to have a positive impact in everything we do. We are people from all walks of life and embrace diversity. We are committed to creating an inclusive culture that means people can bring their best authentic self into our restaurants, which helps us better serve our customers. If you're keen to grow academically and practically, you'll want an employer who can turn your potential into a reality. Training and developing people is at the heart of our business, and each year we invest over £40 million upskilling our people and providing opportunities for progression.
School leaver opportunities
Our Management Degree Apprenticeship is a great opportunity to gain real-life management experience following our structured and industry recognised training programmes, while at the same time studying towards a degree qualification with Manchester Metropolitan University or Glasgow Caledonian University.

From day one you'll be rolling up your sleeves as part of a restaurant team, learning how every aspect of our restaurants work, from preparing food in the kitchen to serving customers on front counter!

Once you've learned the basics, you'll quickly start developing your management skills following our management development programme. The first year of your apprenticeship will be completely focused on training you up to be a Shift Manager, manging teams of up to 50 people, while working towards a Level 3 Apprenticeship (Hospitality Supervisor).

The following four years will be spent working towards a BA (hons) degree in Business Management and Retail from Manchester Metropolitan University (MMU) or Glasgow Caledonian University (GCU). Upon completion of the programme, you will also gain Chartered Manager status with the Chartered Management Institute (CMI). During this time you'll gain hands-on restaurant experience; creating staff rotas, managing accounts and business planning.

Throughout the five-year programme you will gain loads of practical experience and progress through different management roles - you'll help make real business decisions and could even go on to manage your own restaurant.
Apprenticeships
At McDonald's we offer a range of different Apprenticeships from our School Leaver Degree Apprenticeship to our Customer Experience Lead Apprenticeships. Our Apprenticeships are a fantastic opportunity for you to study while you work. You can start on an amazing journey to build your confidence and develop your life skills. By completing an apprenticeship programme, you'll gain skills, knowledge and confidence to succeed in your role and progress your career.
All apprenticeships take at least 12 months to complete – so you will need to be eager to learn, and good at juggling work and study.
To learn more about our Crew Member and Customer Experience Lead Apprenticeships please click here.
Salary & benefits
The starting salary for the School Leaver Degree Apprenticeship is £20,000, with the opportunity to progress up to £34,000 upon completion.
Requirements
To be eligible for our School Leaver Degree Apprenticeship Programme in Manchester you will need to have achieved or be expecting to achieve 104 - 112 UCAS points, as well as GCSE grades C/4 or Level 2 Functional Skills in English and Maths.
To be eligible for our School Leaver Degree Apprenticeship Programme in Glasgow you will need Four SQA Highers at B Level or above (this could include a Foundation Apprenticeship) Nat 5 Maths at C Level or above.
For both locations, you will need to have been a resident in the UK for 3 or more years (ETW must be provided).
Apply
To apply for our School Leaver Degree Apprenticeship please visit our website.