The Institute for Apprenticeships and Technical Education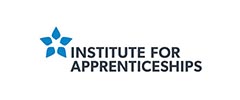 Profile
The Institute for Apprenticeships and Technical Education ('the Institute') is working hard to create exciting opportunities for everyone by improving access to, and the quality of, giving apprenticeships and technical education. It's an exciting time to join us as the Institute is expanding, both in size and the work that we do.

School leaver opportunities
N/A
Apprenticeships
Click 'view jobs' to see more.
Salary & benefits
See listing for more details.
Requirements
See listing for more details.
Apply