Institute and Faculty of Actuaries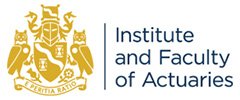 Banking & Finance, Business & Admin
Profile
We are the UK's only chartered professional body dedicated to educating, developing and regulating actuaries around the world.
An actuary is someone who works within the business and financial sector. They use their great mathematics, statistical, probability, modelling, numerical and problem solving skills to model and predict the risk before business decisions are made.
If you love maths and want a career where you use your mathematical skill every day then becoming an actuarial professional might be for you.
You can either work towards becoming an actuary or a Certified Actuarial Analyst which is a technical, support professional.
There are routes available for you if you want to get on an apprenticeship scheme or if you want to go to university. Look at the tabs for more information or contact us for more information – careers@actuaries.org.uk
School leaver opportunities
School leaver opportunities
Not sure what to do? Well don't worry, we've got it covered for you.
There are two opportunities for you currently.
1. Get an apprenticeship
This offers you the chance of getting a job straight from school. You will usually need a Maths A level at grade B or A or around 260/280 UCAS points. An apprenticeship will give you:
- A salary
- Independence
- Work experience
- A professional qualification
- Contacts
2. Go to university
You will go to uni to study a degree of your choosing. You will need Maths A level and then a 2:1 in usually a numerate subject, but it doesn't need to be maths or actuarial science if say engineering is more appealing to you. Going to uni will give you:
- More knowledge in your subject area
- A higher starting salary
- Maybe some exemptions
- A professional qualification
- Contacts
- More opportunity for work experience
If you would like to speak to the careers team contact us – careers@actuaries.org.uk
Apprenticeships
Actuarial Apprenticeships offer you the opportunity as a student at school to get into the work place without taking a degree. There are many schemes available from actuarial employers, which you can find in our Directory of Actuarial Employers.
There are two schemes that are available for you to chose from – either embarking on an apprenticeship taking the Certified Actuarial Analyst (CAA) qualification or taking the Fellowship exams. It will be the decision of the company that you apply for to decide what route they decide to take. Both are incredibly beneficial and will take you on your journey to becoming an actuarial professional.
With an apprenticeship you can go from school into a career in finance or business, working for some of the world's top employers, earning whilst you learn.
So, if you love maths, analytics and data then this could be the career for you.
What does an apprentice have to say?
"I wasn't excited about the prospect of university. Getting into work and learning as I go was much more appealing to me, I love being in the workplace and working in a team and this motivates me in a way that wouldn't happen at university." - Actuarial Apprentice, Mercer
Salary & benefits
Here is the basic salary you might expect to earn at different levels of responsibility.
Responsibility level
Average basic salary (£)
Chief actuary, senior partner -
£206,236
Senior function head, practice director -
£135,192
Function head, Practice head -
£116,676
Department manager, managing consultant -
£95,053
Section manager, senior consultant -
£83,713
Section leader, consultant -
£73,103
Senior actuary, junior consultant -
£66,066
Actuary -
£51,594
Student actuary -
£35,936
Recent graduate -
£32,825
Source: XpertHR Salary survey of actuaries and actuarial students.
Actuarial apprentices will earn around £18,000-£25,000 when they start their apprenticeship scheme.
Requirements
For an apprenticeship scheme you will usually need a Maths A level at grade B or A or around 260/280 UCAS points.
For a graduate scheme you will usually need a Maths A level at grade B or A and a degree at 2:1.
There may be some flexibility around these requirements as each employer will be different so it's worth looking at our Directory of Actuarial Employers.
Apply
You can apply to start sitting the professional qualification exams via the IFoA website
If you are looking for an apprenticeship, start by contacting the IFoA to find out who's recruiting: careers@actuaries.org.uk