ICAEW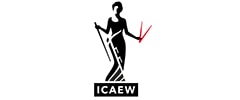 Accounting, Banking & Finance
Degree Apprenticeships
Profile
When you become chartered with ICAEW, you'll be more than an accountant. You'll be a leader, a creator, an innovator. You'll be striving to push yourself and face new challenges every day.
You'll be part of a global network of over 147,000 business professionals, who are working to drive leadership standards, to provide expertise, and to build a world of strong economies.
What do we do?
We're one of the world's leading providers of training and professional development for accountants. Through us, aspiring leaders and business professionals can take a qualification called the ACA and become ICAEW Chartered Accountants. It's our job to support you during your training and make sure that you're reaching your full potential.
To find out more about what we do visit ICAEW Careers.
What do we offer?
We offer the ACA qualification, which is one of the most advanced learning and professional development programmes available. It has been designed to provide you with an in-depth understanding across accountancy, finance and business.
The ACA is designed to open up a world of opportunity across a huge range of workplaces. From the most renowned professional service firms, to entrepreneurial start-ups, charities and government bodies, there's no end to where it can take you.
Five reasons to choose us…
Community – you'll be supported by our global network of over 153,000 members and over 28,700 students.
Leadership Potential – the ACA prepares you for leadership right up to board level. That's why 83 of the FTSE 100 companies have an ICAEW Chartered Accountant on their board.*
Support – ACA students have high first time pass rates of 80%, driven by quality learning, teaching and support.**
Progression – 90% of all ACA students qualify in four years or less, meaning fewer resits, and faster career progression.***
Opportunity – take your career into any industry around the world – 96 of the world's 100 leading brands employ ICAEW Chartered Accountants.****
How can I apply?
There are several steps to becoming a qualified ICAEW Chartered Accountant as a university graduate:
1. Finish university with a degree in any subject
2. Enter into an ACA training agreement with an authorised training employer, by applying to a vacancy on ICAEW Training Vacancies.
3. Complete a combination of study, exams, practical work experience and ethics.
4. Once you have completed your ACA training, you can apply to become a member of ICAEW.
5. Once you're accepted, you will be a fully qualified ICAEW Chartered Accountant and can use the letters ACA after your name.
To find out more about careers in chartered accountancy, visit ICAEW Careers.

*ICAEW member data and FTSE 350 data in December 2018.
**ICAEW Case Study exam statistics 2018.
***Financial Reporting Council: Key Facts and Trends in Accountancy Profession 2018.
****Includes parent companies. Source: ICAEW member data at December 2018, Interbrand Best Global Brands 2018.
School leaver opportunities
If you're about to leave school, you'll be glad to know that there are multiple routes to becoming an ICAEW Chartered Accountant. You can start your training and go straight to work through our school leaver, Apprenticeship, or AAT-ACA Fast Track programmes.
If you're considering university, there are also many opportunities to start working towards the ACA while completing your degree.
To find out more about the routes you can take, visit icaew.com/routeplanner.
School Leaver Programme
If you want a head-start in your career, you can start working right away with a school leaver programme.
This option allows you to begin training for the ACA qualification straight from school, so we recommend you start looking for an employer offering ACA training during your last year of studying A-levels. We work with many different employers across a range of industries, so there's plenty of choice available.
AAT-ACA Fast Track
This option is a collaboration between the Association of Accounting Technicians and ICAEW. It provides those studying for the AAT qualification with credit towards part of the ACA qualification, enabling you to qualify as an ICAEW Chartered Accountant quicker than you may have been able to otherwise.
To find out more about your options visit icaew.com/routeplanner.
Apprenticeships
Keen to start earning and learning? An ICAEW apprenticeship could be your first step to qualifying as an ICAEW Chartered Accountant. Our apprenticeships are a great choice if you've finished your A-levels, or similar qualifications, and are looking to dive straight into work.
During the apprenticeship you will study and complete ICAEW's Certificate in Finance, Accounting and Business (ICAEW CFAB) – which consists of the first six exam modules of the ACA qualification. You'll also earn a salary and learn essential business skills at the same time.
At the end of your apprenticeship, you will be in a strong position to secure a training agreement to complete the remaining elements of the ACA qualification and become an ICAEW Chartered Accountant.
To search for ACA training opportunities, visit icaewtrainingvacancies.com.
Salary & benefits
Visit our website for information on salary and benefits.
Requirements
You don't need to be a mathematical wizard to do the ACA. You don't even need maths as one of your A-levels. What's more, if you choose to go to university, our employers welcome all degrees.
What you will need from most employers is at least a B in GCSE Maths and English (or equivalent) and also above 112 UCAS points. If you choose to complete a degree, you'll be expected to achieve at least a 2:1 by most employers.