Greene King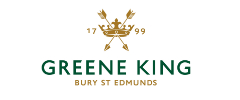 Profile
Greene King operates over 3,000 pubs, restaurants and hotels across England, Wales and Scotland, of which c1,800 are retail pubs, restaurants and hotels, and 1,200 are tenanted, leased and franchised pubs. Its leading retail brands include Hungry Horse, Farmhouse Inns, Chef & Brewer, Flaming Grill and the Greene King Local Pubs estate.
School leaver opportunities
Please look into Greene King's exciting Apprenticeship opportunities to find out about the fantastic opportunites they offer.
Apprenticeships
- Hospitality and Catering
- Team Leading
- Management
Greene King have supported over 9,000 apprentices since 2011 and in 2016 pledged to deliver 10,000 opportunities over a 3 year period.
With hundreds of vacancies available across the UK to work in our kitchens or front of house, there are plenty of opportunities available.
Our Career Path enables those starting a career with Greene King to progress to General Manager and beyond.
Salary & benefits
Greene King offer minimum wage based on age + benefits.
Requirements
Greene King look for passionate and committed individuals to apply!
Apply