Foot Anstey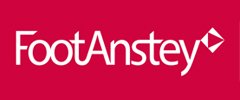 Profile
Foot Anstey LLP is a premier legal practice delivering specialist expertise to an impressive portfolio of regional, national and international clients. An entrepreneurial firm with history and tradition, we are on an exciting journey, as we look to the future. With over 450 people working across our network of five offices in the South West, we provide exceptional legal services and advice to our clients. We consider our people to be our most valuable asset and therefore, offer continual opportunities for support and professional development.
School leaver opportunities
Apprenticeships
We have a thriving community of Apprentices now across all our major offices, working not only in the Legal teams but also Accounts and Business Services. We have really strong relationships with colleges in our key locations and are able to offer excellent support and training during your apprenticeship with us.
Salary & benefits
At Foot Anstey our people, like our Values, are at the very heart of our business. We aim to provide our employees with a rewarding career and work environment and an attractive and flexible benefits scheme as part of supporting the importance of work/life balance.
The main benefits available to you include:
Five weeks' annual leave (with the additional flexible option to buy/sell up to a week on an annual basis)
Additional discretionary one day as an 'office shut down' day annually at Christmas time.
Lifestyle Hour – a discretionary benefit to provide a fully flexible time slot for employees to take an additional hour away from work on a weekly basis in order to balance their personal lifestyle needs and their workload
Life Assurance (4 x reference salary once you've achieved six months service)
Contributory pension scheme with variable contribution options and the opportunity to salary exchange, which is a great way to boost both your pension and your take home salary through dealing with your NI contributions more efficiently
Cycle to work scheme (saving tax and NI through salary exchange - available after successful completion of probation period)
Enhanced and bespoke maternity, paternity & adoption arrangements
Staff conveyancing scheme - limited to two transactions per year and available to staff after completion of 12 months service
Discounted shopping via the Foot Anstey Reward Gateway
Requirements
We like our trainees to stand out from the crowd. We look for excellent interpersonal skills and the ability to build effective working relationships both internally and externally. We would also like you to have a genuine interest in the future plans and direction of Foot Anstey.
It goes without saying that all of our trainees have an exceptional academic background with a 2:1 degree or above in either Law or non-law with GDL. On top of this, we will do everything we can to support your LPC studies. We take into account your potential areas of law interest as well as your previous work experience, both legal and non-legal, and positions of responsibility, to ensure we get the full picture of you and your capabilities.
Apply
To apply to be considered for a trainee place with the firm, there are two routes available.
Vacation Scheme Placement and Training Contract - Please submit your application online by 1 April 2020.
For the Training Contract only - Please submit your application online by 1 June 2020.
Within two weeks of the respective deadlines you will receive an update. After your application has been reviewed, if successful you will be invited to attend a Skype interview. If you have demonstrated the potential we require you will then be invited to either the vacation scheme or assessment day.