EY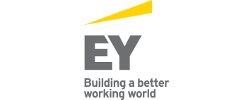 Accounting, Business & Admin
Editorials
Profile
Wherever you are on your career journey, EY will help you keep learning, evolving and building the future that's right for you.
The world is changing fast, and we're right at the heart of it. It's our job to help some of the largest, most influential businesses worldwide navigate these changes and the new technology that's driving them.
We do this throughout our Assurance, Consulting, Tax and Transactions business areas.
With 250,000 experts around the world, and offices in more than 150 countries, our people get the support and opportunities they need to create the careers they want.
We believe they work best when they're free to be themselves, so we've created a welcoming, flexible working culture that focuses on helping everyone learn new skills to prepare them for the future. We recruit based on strengths and potential, and have a variety of programmes for school students, undergrads and graduates.
If you're interested in shaping the way organisations do business and influencing the world we live in, discover a role that's right for you at: ukcareers.ey.com/students
School leaver opportunities
Head over to the EY website to find out information on their School Leaver Programmes
Apprenticeships
Our apprenticeship programmes have you working with clients from day one. If you're creative, curious and want to make a real impact on the working world while developing important skills for the future, one of our programmes could be for you.
You'll join one of our four service lines – Assurance, Consulting, Tax or Transactions – and work with local, national and global teams. Together, you'll come up with better solutions to help clients seize opportunities and lead change and innovation on issues that matter.
In Assurance, we help protect public confidence in the world's capital markets, which involves a variety of skills across many areas in both audit and non-audit work. In Consulting, we work across almost every part of our clients' businesses to help them investigate risk and improve their performance.
Our Tax teams are all about providing a full suite of tax services to everyone, from multi-national companies to fast-growing entrepreneurial start-ups. And in Transactions, we help businesses negotiate to raise, preserve and increase their earnings, ensuring their long-term success in a complex global market.
Salary & benefits
As well as a starting salary of up to £21,500, you can look forward to benefits that include a pension (up to 6% matched contributions), bikes for work, a subsidised gym membership, season ticket loan, sports teams and annual travel insurance.
Requirements
The entry requirements differ slightly for each of our programmes, but generally you'll need to have achieved three A-Levels, five Scottish Highers or equivalent by the time the programme starts.
Apply
We think application processes should be a two-way street. So as you complete each of the four steps, we'll share feedback with you, so you get to know your individual strengths and how to develop them. For step-by-step guidance to our four-stage application process, visit our website.