EY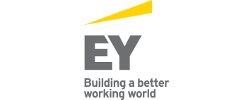 Accounting, Business & Admin
Higher Apprenticeships, Degree Apprenticeships
Editorials
Profile
Start today. Change tomorrow.
EY is a global professional services organisation with scale, vision, and an important purpose that is at the heart of shaping the future. We work with many of the world's largest businesses, helping them navigate ever-changing markets and technology so that they can be equipped with better solutions for tomorrow. 80% of our 100,000-strong client book are in the Fortune 500, so for smart, curious school leavers, working at EY offers the opportunity to change how world-leading organisations do business.
The firm drives itself and its clients forward with technological innovation and disruptive thinking in a world that's changing at an unprecedented rate. School leavers who thrive on change and challenge will be in their element here. With over 231,000 people in more than 150 countries, and an unrivalled breadth of opportunities, along with a vision to double revenues by 2020, at EY, school leavers can shape their career their way.

Making an impact, driving change.
We don't shy away from high-impact, future-shaping concepts. We foster an entrepreneurial spirit that values creative, innovative ideas. Ask better questions, and you'll receive better answers. That's how our people discover better solutions, seize better opportunities, and help our clients make better decisions to improve the way the world works. It's a method that permeates our business practice, and one that we look for in school leavers looking to join us.
We depend on high-performing teams – our people are from a diverse range of cultures and backgrounds working together to help clients drive innovations on the issues that matter most. We operate across four service lines: Assurance, Consulting, Tax and Transactions.
In Assurance, our independent, reliable voice helps maintain public confidence in the world's capital markets. It requires having an advanced level of assurance skills across many areas, covering both audit and non-audit work. Our Consulting teams have a similarly broad remit. A diverse, fast-paced and fluid area, we work across almost every part of our clients' business to help them investigate risk, and advise on best practices to improve their performance.
For our teams working in Tax, it's all about thinking creatively and providing a full suite of tax services to everyone from multi-nationals to fast-growing entrepreneurial start-ups. And, in Transactions, we help businesses negotiate in ways that will raise, preserve, and optimise their capital. It's one more way we can ensure their long-term competitiveness in a complex, challenging global market.

Build your future, your way.
Bright and ambitious students looking for an unrivalled breadth of opportunities, and who thrive on change and challenge, will be in their element here. We recruit people based on their strengths and future potential, not simply their academic background, and we offer an incredibly diverse range of paths, roles, and opportunities. With this comes exceptional training and development that make the most of those strengths, and our collaborative culture gives people the continuous support they need to thrive..
If you can see the change the world needs and are smart enough to be part of it, EY is a great place to build the career that's right for you. What more, you can make your own contribution to EY's purpose, and help us to build a better working world.
School leaver opportunities
Head over to the EY website to find out information on their School Leaver Programmes
Apprenticeships
EY now run an apprenticeship scheme. Check them out here!
Discover EY
EY Business Apprenticeship.
EY Choices
EY Business Academy
Salary & benefits
As well as a starting salary of up to £21,500, you can look forward to benefits that include a pension (up to 6% matched contributions), bikes for work, a subsidised gym membership, season ticket loan, sports teams and annual travel insurance.
Requirements
To be eligible for the EY experiences, see each individual job requirements.
Apply
The first step is to apply online. Here you will find out about all of the stages of our recruitment process, as well as some hints and tips to help you prepare and stand out. If you'd like to speak to someone about your application then contact one of our recruiters at eyschools@uk.ey.com or tweet @EY_SchoolsUK.