Euroclear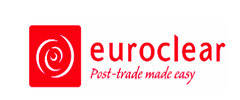 Profile
Euroclear SA/NV is the company that operates CREST, the electronic system for settling shares and other securities for the UK and Irish equities market and is therefore a major player in the International Financial arena. The CREST system is of major importance to the City and the wider shareholding public. The Euroclear Group is a leading provider of settlement, custody and related commoditised services, in Europe and beyond, for bonds, equities and investment funds.
School leaver opportunities
Please see 'view jobs' for opportunities
Apprenticeships
Euroclear is not currently offering apprenticeships.
Salary & benefits
Please see job description
Requirements
Please see job description
Apply
Interested? To find out more visit our website and to apply, please send your CV to Arta.Llabjani@EUROCLEAR.COM or visit the website