DWF LLP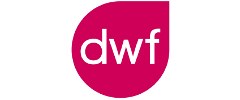 Profile
We are a global legal business, transforming legal services through our people for our clients. Led by Managing Partner and CEO Andrew Leaitherland, we have over 26 key locations and 2,800 people delivering services and solutions that go beyond expectations. DWF are ranked the 10th most innovative legal business in Europe by the Financial Times (2017).
School leaver opportunities
We are not currently offering School Leaver Programmes.
Apprenticeships
We are offering Apprenticeships in the following sectors:
Legal: Paralegal, Solicitor
Non-Legal: Business Administration, IT, Accounts, Facilities and HR
Salary & benefits
£14,500 (outside of London) £17,500 (London).
We have a number of core company-funded benefits along with options for a number of voluntary benefits.
Requirements
To be considered for the role of Apprentice, you must be able to demonstrate some basic IT and keyboard skills with knowledge of Word, Excel and database programs coupled with good administration and organisational skills. With proven team working skills and excellent communication skills, you must have the ability to learn on the job and participate in learning and development at every opportunity.We need to see a strong record of academic and extra-curricular achievement for our Legal apprenticeships. Ideally, we would like to see five GCSEs at grade C/grade 5 or above (including Maths and English) and C,C,C at A Level.
Apply
Vacancies will be posted on our website, alongside BPP and getmyfirstjob sites - Please check for updates on the following sites: DWF, BPP and Getmyfirstjob