Crowe UK LLP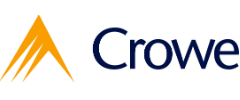 Accounting, Banking & Finance
School leaver programmes, Higher Apprenticeships
Profile
Looking to start your journey into accountancy?
With offices across the UK, Crowe offers you the opportunity to realise your potential and build a rewarding career in audit, tax, risk and advisory services.
Ranked in the top 10 largest accounting networks in the world, Crowe Global has over 200 independent accounting and advisory firms in more than 145 countries.
Whether you join us straight from school or college, or as a graduate, throughout your training programme you will work both on your own and as part of a supportive team, where you can thrive, feel valued and recognised for your hard work
Throughout the programme, you will be guided through a tailored training plan supporting both your professional and personal development, helping you achieve your qualification as well as becoming a fully rounded professional.
Most of our trainees study to obtain the ACA qualification provided by the Institute of Chartered Accountants in England and Wales (ICAEW), while others follow more tax or business solutions focused pathways.
As a graduate you should expect to qualify after three years, with our school leavers spreading their studies over 4-5 years.
Once qualified, you will continue to build your career with us by specialising in a particular area.
School leaver opportunities
Crowe offers a number of school leaver opportunities through our Level 7 Apprenticeship route.
ACA Route (Audit)
Joining us through the ACA route means you can study to be a Chartered Accountant without the financial burden of having to go to university first. You would join us once you have achieved your A-levels as a Level 7 Apprentice.
Your apprenticeship will take 52 months and you will study to become ACA qualified while on the job. We will support you through your training, exams and all other elements of study.
Throughout your study and work-based learning, you will be part of a supportive team and have exposure to our huge portfolio of clients across Corporate Audit; Non-profit; Pension Fund; Professional Practices.
ATT/CTA Route (Tax)
Joining one of our Tax Departments, your route will be to qualify as a Chartered Tax Advisor with all of your studies paid and a salary while learning on the job. You will have unparalleled exposure to various areas within tax to ensure you are training to the highest level and achieve a well-rounded skillset.
Your route of study with be a succession of gaining the ATT Qualification and then the CTA route to becoming a Chartered Tax Advisor.
AAT Apprentice (Business Solutions Group)
As you train with us you will be given experience in accounting and tax work. This will enable you to work with a range of businesses from start-ups to over £5m turnover. Your work will involve preparing statutory and management accounts, corporation tax computations and assisting clients with their day to day accounting and tax issues. You will study the AAT course and following qualification as an AAT, will continue on to study for your Chartered Accountancy exams. Study is on paid leave and tuition costs are covered by the firm.
Apprenticeships
Crowe offers a number of school leaver opportunities through our Level 7 Apprenticeship route.
Details can be found in the 'School Leaver Opportunities' section.
Salary & benefits
At Crowe, we know that our people not only value their training and development with us, but also how they are rewarded through their pay and benefits. This is why we ensure our salaries are competitive and our benefits look after you, personally, as well as professionally.
Our core benefits include:
· 25 days holiday
· Pension
· Life assurance
· Annual season ticket loan
· Access to a flexible benefits and discounts platform, including gym membership, travel insurance, dental insurance and much more
Requirements
BBC from 3 A levels (or equivalent).
GCSE grade 5 or above in Maths and English Language.
The right to live and work in the UK.