BT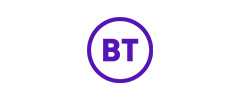 Business & Admin, IT
Advanced Apprenticeships, Higher Apprenticeships, Degree Apprenticeships, Intermediate Apprenticeships
Editorials
Profile
We're looking for people who want to make a difference. People who want to pitch in. People who want to go places in their career.
Join us as an apprentice and you'll get hands-on experience in one of the world's leading tech companies. Our apprentices don't just make coffee; they learn skills and win awards. They build brilliant careers. And they do amazing things along the way.
From Day 1, you'll be playing a crucial part in keeping the country connected. Without us you wouldn't be able to use the internet or check in on your Insta. WhatsApp your friends, order a cab. Stream TV shows.
Find out why you should think about an apprenticeship at BT. The path you never considered
School leaver opportunities
BT do not currently have any School Leaver Programmes, look into the Apprenticeship schemes for more information.
Apprenticeships
Click 'see jobs' to see available apprenticeships.
Salary & benefits
Requirements
This depends on the apprenticeship you are applying for. Please review the vacancies in your location on our website to confirm the exact requirements, however for most of our apprenticeships you will need 4 GCSEs Grade C or above as a minimum and this must include English Language and Maths.
Apply
Apply via our website!