British Sugar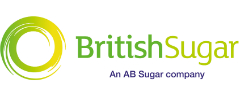 Electrical, Engineering, Manufacturing
Profile
British Sugar is the leading supplier to the UK and Ireland food and beverage markets.

As the sole processor of the UK sugar beet crop it produces more than 1 million tonnes of sugar in its 4 factories from 7 million tonnes of sugar beet. The company was the first to manufacture bioethanol in the UK at its Wissington site in Norfolk and seeks to turn all of its inputs into sustainable products.

Our business is not just about sugar, we have expanded the range of co-products we produce. These products include animal feed, soil conditioning, landscaping products and electricity. We are also involved in the bioethanol industry, seed coating and enhancement technology.

Our products are represented in the leading brands of international food and drink manufacturers. The scale and nature of our operations mean that behind every product is the total assurance of food safety, product traceability, security of supply and a commitment to product innovation.

Using our combined heat & power plants, we export enough electricity for 160,000 homes and use the combustion gases to grow around 140 million tomatoes and we invested in the UK's first bioethanol plant, producing 70 million litres of renewable fuel.

You will find our sugar on supermarket shelves under the Silver Spoon brand, one of the UK's leading food brands.

Find out more at the British Sugar website.

School leaver opportunities
Please see their apprenticeship scheme for more information.
Apprenticeships
British Sugar offer apprenticeship opportunities in four industrial areas; Mechanical, Electrical, Process and Combustion Engineering and each annual intake will specialise in one of the four areas depending on our needs.

For September 2018, the focus for our intake will be Electrical Engineering. Our apprenticeship programme is four years, consisting of the following structure:

• Initial residential training period (up to two years) living with other British Sugar apprentices studying a mixture of theory and practical qualifications.
• Experience at one of four factory sites
• The final assessment and professional discussion
• An 'outward bound' course to learn confidence, team working, leadership, and communication skills

Salary & benefits
British Sugar has a competitive salary and benefits scheme. See the website for more details.
Requirements
Requirements are role dependant.
Apply
See the jobs or click the links to apply.