Bolt Burdon Kemp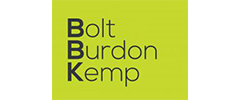 Profile
Bolt Burdon Kemp is a leading London law firm representing individuals who have been seriously injured. Through litigation, we help our clients secure the compensation they need to live their best lives, however altered their circumstances. We put our clients at the centre of everything we do and help them fight for justice every step of the way. We are passionate about getting the best results, providing exemplary client care, whilst striving to change the law for the better with every case.
We are committed to making Bolt Burdon Kemp the best place to work for everyone. Our people are not only leading solicitors handling complex and challenging multi-track work, but they are also extraordinary people and we take great care to nurture and support their growth within a learning culture.
School leaver opportunities
N/A
Apprenticeships
Solicitor Graduate Apprenticeship is a level 7 programme
Salary & benefits
See listing.
Requirements
See listing.
Apply