BAM Nuttall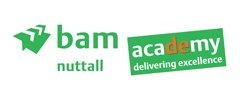 Construction, Engineering
Editorials
Profile
At BAM NUTTALL our exciting and varied projects provide the perfect opportunity to fulfil your career ambitions within Civil Engineering.
If you are looking to start an inspiring career in the civil engineering industry, then look no further! We recruit in excess of 30 apprentices per year, each forming a valuable part of our workforce.
Our Apprenticeship programmes offer structured development and the opportunity to fulfil your ambitions through gaining valuable skills, knowledge and experience along with achieving industry recognised qualifications.
Your time will be spent on exciting and varied projects, led by highly skilled and professionally qualified staff, to give you a broad understanding and grounding in our business in preparation for your future career.
Click here to watch why you should choose to work for BAM Nuttall and their vision as a company.
We have now received a high number of applicants and so we are no longer taking applications.
The benefits of work experience
Work experience gives young people the opportunity for involvement in the work place, helping them to understand how the world of work operates and how it is different to school. It also gives Bam Nuttall the opportunity to raise its profile around the UK to be involved in developing the workforce of the future.
Work experience brings tangible benefits for young people, employers, schools and society as a whole. It can increase young people's confidence by challenging stereotypes in relation to their career aspirations. Many young people believe that work experience helps develop their employability skills that around a quarter of students are offered part-time employment following a work experience placement. Work experience also brings the curriculum to life by showing how subjects can be applied and valued in the workplace, this encourages students to become active rather than passive learners by developing a range of skills through hands – on activities.
School leaver opportunities
Other Opporunities
We can offer industrial 'Year out' placements to quantity surveying and engineering undergraduates in civil, geotechnical or mechanical and electrical engineering. During your placement, all of your theoretical learning will be put into context as you apply what you have learnt on a live project, gain valuable work experience and knowledge to complement your studies, and really make a valued contribution to the projects that will work on.
Apprenticeships
Our Flagship programme for Civil Engineering and Quantity Surveying apprentices is available to those who have achieved GCSEs (or equivalent) in Math at grades A *to B, and English and Science at grades A* to C, with recruitment opening on 1st May each year.
You will start on our three year Higher Apprenticeship programme, studying at Level 4 where you will achieve an industry recognised HNC qualification, along with working towards gaining technical engineer (Eng Tech) status with the institution of Civil Engineers (ICE) or technical (TCInstCES) Status with Chartered Institution of Civil Engineer Surveyors (ICES). This will be achieved through attending college, along with gaining valuable working experience on our UK based projects.
We also have apprenticeship opportunities within our craft trades and support roles throughout the business. Roles include steel Fixing , General Construction Operative , Formwork , Electrician and Business Administration, which are available for those who have achieved four GCSEs (or equivalent) at grades A* to D.
Furthermore we have opportunities arising with IT Support, and Procurement which are available for those who have achieved five GCSEs (or equivalent) at grades A* TO C.
Recruitment for these apprenticeship opportunities is undertaken periodically in line with our business requirements, so please continue to keep checking our website for any new vacancies.
We have now received a high number of applicants and so we are no longer taking applications.
Salary & benefits
BAM Nuttal offer a competitive salary. See the website and vaccancies for details.
Requirements
CIVIL ENGINEERING & QUANTITY SURVEYING APPRENTICESHIPS
GCSEs (or equivalent) in math at grades A* to B and English and Science at grades A* to C.
CRAFT TRADES & SUPPORT ROLE APPRENTICESHIPS
Four GCSEs (or equivalent) at grades A* to D.
IT SUPPORT & PROCUREMENT APPRENTICESHIPS
Five GCSEs (or equivalent) at grades A* to C.
Apply