APR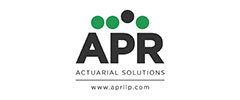 Actuary, Banking & Finance, Business & Admin, Insurance, IT
School leaver programmes
Profile
APR provides high-quality technical, data-driven and modelling solutions to clients in the financial sector. These solutions take the form of:
Consulting projects, where we use our skills and expertise to address a variety of client needs, primarily from our own offices.
Seconding our staff to clients, where we work directly in client teams and their offices for a period of time to provide support on a wide range of projects.
Technical training services, where we pass on our in-depth knowledge of key regulations, software and actuarial concepts to our clients.
Each year we supplement our successful, growing team with some of the brightest, numerate school-leavers, to whom we provide our comprehensive and ongoing programme of training, and a broad range of client projects. This makes for an exciting and varied career for our analysts, who enjoy the combination of early responsibility and exposure to a wide spectrum of actuarial work. The result is an outstanding team of well-rounded, high-calibre consultants, who have been central to our becoming a trusted partner providing exceptional value to our growing portfolio of clients.

As an expanding, but still relatively small company, APR has a dynamic, unfussy and inclusive culture, with a strong focus on being open with, and supportive of, our staff. We also place great emphasis on quality and training, and you will have the chance to work with lots of highly talented individuals.
School leaver opportunities
Our Actuarial Analyst role is ideal for school leavers looking to "earn while you learn". This three-year programme is designed to give you a great foundation to your career, building skills in areas that are considered to be in high demand in future, including finance, data analysis, coding and modelling.
To get you started, we'll put you through several weeks of hands-on induction training, learning the key software programs, coding languages and technical skills, as well as industry knowledge you need to succeed.
After this initial training period, you'll start to gain valuable experience working on a wide range of different projects for our clients, which include some of the largest insurance companies in the UK. You'll also have the opportunity to be involved in some in-house work helping to develop our growing business.
Alongside this, you'll work towards the Certified Actuarial Analyst (CAA) qualification. We'll provide you with the necessary study materials and study days. As well as being a highly transferable and valuable qualification in its own right, the CAA qualification can be used as a stepping stone towards becoming a fully-qualified actuary, meaning that choosing this route over university won't curtail your career ambitions if that is your ultimate goal.
Apprenticeships
We don't currently offer roles through the apprenticeship framework, but our Actuarial Analyst role is ideal for school leavers looking to start a career in finance. Click on "School Leaver Opportunities" for more information.
Salary & benefits
As well as a generous starting salary (see our role profile for more details) and participation in our bonus and profit share schemes, you can expect the following benefits (and more) when you join APR.
22 days holiday in your first year, rising by one day per year up to 25 days in your fourth year of employment and beyond (plus Bank Holidays).
A generous study policy, covering study materials, exam entries and study days.
All professional subscription fees paid.
Opportunity to participate in our payroll giving and donation matching scheme, as well as other charitable initiatives such as the annual APR Charity Day, as part of which, since its inception in 2016, we have donated more than £38,000 to a number of deserving charities selected by our staff.
Requirements
Applicants should be highly numerate and analytical, with good communication skills, and be enthusiastic to learn.
For our Actuarial Analyst role, we are looking for candidates with (or predicted to achieve) the following minimum level of academic qualifications (or equivalents):
• 128 UCAS points (equivalent to ABB at A-Level).
• Grade A at A-level in a Maths-related subject.
• Grade 7 at GCSE in English Language.
However, we are willing to consider applications that don't quite meet this standard where there are extenuating circumstances – please make this clear when submitting your application.
Apply
For more details on how to apply, click the Apply button or check out our website,