Allen & Overy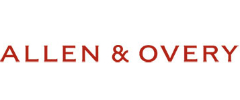 Profile
We're Allen & Overy, for ninety years, we've been at the forefront of the legal industry by finding new ways of meeting the challenges that our clients face. In today's ever-changing world, we continue to break new ground. We work with companies, organisations and governments on issues of incredible scope and complexity. We're a pioneering, forward-thinking business; the only one to have topped the Financial Times Innovative Law Firm ranking six times.
An exciting career is there for the taking. Our trainees can expect a rewarding experience that will prepare them to succeed. In each of their seats they'll support a senior associate or partner, with exposure to work that crosses departments and borders – a lot of the firm's work involves two or more jurisdictions. Our trainees also have the chance to spend six months in one of our internationals offices, or on secondment to one of our clients.
As the legal industry evolves, we're proud to have the resources, the vision and the mind-set to equip our people to operate in the legal landscape of the future. For trainees, this means an in-house training programme characterised by flexibility and choice – like the chance to take a litigation course alongside their rotations. As we strive to be at the cutting edge, bringing technology to the legal sector like never before, our future relies on technology and graduates with open minds.
This is an opportunity for anyone to reach their potential, around half our trainees have a degree in a subject other than law – we will help you develop into an exceptional lawyer and learn to do work of the highest possible standard. We provide a supportive learning environment and encourage you to challenge the status quo.
School leaver opportunities
Allen & Overy offer an Apprenticeship Scheme. View 'view jobs' for more details.
Apprenticeships
Allen & Overy offer an Apprenticeship Scheme. View 'view jobs' for more details.
Salary & benefits
£25,000 per year. Salary increases annually. Sign-on bonus of £1,500 to assist with starting work costs.
Requirements
We require you to be on track to achieving AAB at A-Level or equivalent and have 7 GCSEs at grade 6 or above (including Maths and English). We do look at every form received, and take extenuating circumstances into account for grades that do not meet our requirements.
When reviewing applicants, we look out for skills and qualities that will help you become a talented lawyer. That is not just strong communication and organisational skills, but the commitment, resilience and enthusiasm required to be an effective team member and work under pressure. At times, a career in law can be challenging, so it is critical that apprentices are adaptable and can work effectively individually, or as part of a team.
Apply
Click 'apply' below!