ALDI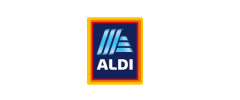 Retail, Sales
Advanced Apprenticeships
Profile
Aldi is one of the most reputable retailers in the global business market today. With a simple goal of providing great value and quality, using leaner and smarter business processes, we're a supermarket that's getting it right. We're winning all kinds of awards and new stores are springing up all over the country as we rapidly increase our market share.
The things that make us a great retailer also make us a great employer. There's a real sense of clarity: everyone knows what's expected of them and they can see how their efforts fit into the bigger picture. We're a very responsible company, always treating our people with decency and respect. Progression is based on merit and it's easy to see how you can achieve personal success. And, perhaps more importantly, we're really open. Open to fresh ideas and new perspectives that will help us to become even better. It's a fantastic place for young people who are willing to work hard and learn from the very best.
You might be surprised to learn that some of the most successful people in retail today started off as Apprentices. It's all about spotting potential and providing the right people with the right environment to develop a practical, usable skillset. With hard work, ambition and the ability to apply yourself to any challenge, you could make it all the way.
School leaver opportunities
Career Starter - Candidates can now join the Apprenticeship Programme as a Career Starter, a new route introduced in March 2019 which takes around 12-15 months to complete, no longer requires previous qualifications and allows colleagues to develop essential skills in Literacy and Numeracy while completing a Level 2 Retailer Qualification.
Store Management Apprenticeship - For applicants that already have their GCSE's in Maths and English at Grade 4 or above (or equivalent) you can apply for our Store Management Apprenticeship programme. You will complete both Level 2 Retailer and Level 3 Retail Team Leader which takes up to 36 months to complete.
For our Logistics Programme you'll work towards a Level 2 Warehouse Operative Qualification. Our Drivers Programme is 13 months long with the opportunity to gain Category C + E Licences and to join our team on a permanent basis upon successful completion.
Apprenticeships
As above.
Salary & benefits
We offer a fantastic salary. On the Stores & Logistics Programmes you'll earn £183 per week which rises to £229 in year two and £273 per week in year three for the Store Management Programme only. On the Drivers Programme, you'll earn £310 per week.
Requirements
Management Apprentices need GCSE's in Maths and English, grade 4 and above (minimum grade C or equivalent). For our Drivers Programme, you'll also need to have held a clean and full UK Driving Licence for a minimum of 2 years.
Apply
To apply, you will need to visit our recruitment website to fill out an online application form where you will be asked to highlight your key skills and experience . If you are successful at this stage, you'll then be invited to an Individual Interview. Finally, you'll take part in the 'Aldi Experience' where you'll discuss the personal strengths you can bring to the role, and gain an insight into what working at Aldi's really like.
We accept applications for our Apprenticeship Programmes all year round.